---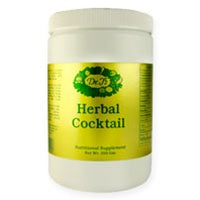 Nourish your body with this delicious blending beverage.
Herbal Cocktail
contains high-protein herbs and high-quality digestive enzymes.
Whether you need to lose or gain weight, Herbal Cocktail provides the balance your body needs. The following are common benefits reported by our customers:
• Curb appetite and unnecessary sugar cravings
• Help heal digestive tract ulcers
• Inhibit yeast overgrowth
• Improve absorption of food nutrients
• Tone up lean muscles
• Help you lose weight when you are overweight
• Nourish your body to gain weight when underweight
Mix one scoop with 8 oz. of warm water or warm
Cleansing-Balance Tea 
and drink with breakfast and/or in between meals.
To achieve best results for correcting under-weight problems, drink Herbal Cocktail with warm Cleansing-Balance Tea three times a day with meals.
You may also mix a scoop of Herbal Cocktail with 8 oz. of rice milk or soymilk, and a banana or half an apple or a slice of papaya in a blender to make a glass of a delicious and nutritious smoothie.
One month supply based on one serving per day.
*These statements have not been evaluated by the Food and Drug Administration. This product is not intended to diagnose, treat, cure, or prevent any disease. Keep out of reach of children. Consult your physician if you are pregnant, nursing, taking a prescription drug, or have a medical condition.