---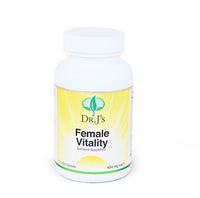 Look and feel your best with Female Vitality!
Female Vitality 
is designed to balance the female hormonal system.
The following are the most common benefits reported by our customers:
• Eliminate or reduce PMS (Pre-Menstrual Syndrom)
• Regulate period
• Eliminate or reduce mood swings
• Improve skin complexion
• Strengthen nails and hair
• Increase energy, mental clarity and productivity
• Eliminate menopausal symptoms
• Enjoy improved sexual function


Directions:
One month supply based on average recommended dosage of three capsules twice daily with meals.  Dosage may be increased up to four capsules three times daily for greater effectiveness.
To achieve best results with Female Vitality, it is recommended that you also take Yeast-Para Control and Cleansing-Balance Tea for Detox simultaneously.
Qty: 180 Capsules
*These statements have not been evaluated by the Food and Drug Administration. This product is not intended to diagnose, treat, cure, or prevent any disease. Keep out of reach of children. Consult your physician if you are pregnant, nursing, taking a prescription drug, or have a medical condition.