---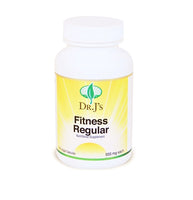 Maintain your ideal body weight and fitness.
Fitness Regular
is designed as a
Fat Blocker
.  The unique combination of herbs, enzymes, natural grains, and vegetable fibers in Fitness Regular works to prevent your body from absorbing unwanted fat from sensible foods you eat.  Many customers also report the following side benefits:
• Reduce high blood pressure
• Balance high blood sugar
• Lower cholesterol
• Improve blood circulation 
Fitness Regular is a great maintenance product that helps enforce your ideal body weight.  This formula is great for athletes, people who want to lose weight, or those who simply want to remain trim.

Directions:
One month supply based on recommended dosage of two capsules twice daily with meals (ideally breakfast and lunch).  Take with warm water or warm Cleansing-Balance Tea.
*These statements have not been evaluated by the Food and Drug Administration. This product is not intended to diagnose, treat, cure, or prevent any disease. Keep out of reach of children. Consult your physician if you are pregnant, nursing, taking a prescription drug, or have a medical condition.