---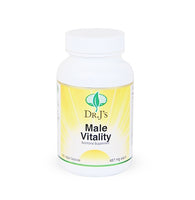 Be confident and balanced with Male Vitality.
Male Vitality
is designed to balance the male hormonal system.
Many of our customers report that Male Vitality works better than Viagra or other similar products because with Male Vitality, they experience overall improvement of total functioning. The results are also long-lasting.
The most common benefits reported by our customers include:
• Improve energy, mental clarity and productivity
• Improve mental concentration
• Uplift mood
• Increase libido
• Improve sexual potency
• Increase overall well being
Each bottle is a one month supply based on average recommended dosage of three capsules twice daily with meals.  Dosage may be increased up to four capsules three times daily for greater effectiveness.
To achieve best results with Male Vitality, it is recommended that you also take Yeast Para Control and Cleansing Balance Tea for Detox simultaneously.
Qty: 180 Capsules
*These statements have not been evaluated by the Food and Drug Administration. This product is not intended to diagnose, treat, cure, or prevent any disease. Keep out of reach of children.